Our show really is for you, BY YOU! Fill in our weekly More to Say Survey to have your say on issues that matter and life moments that make us who we are.
Every week, our listeners get to shape what we talk about on our shows, and every week you have the chance to share your opinion on a different topic. Because you matter. And we hear you.
Are you ready to share?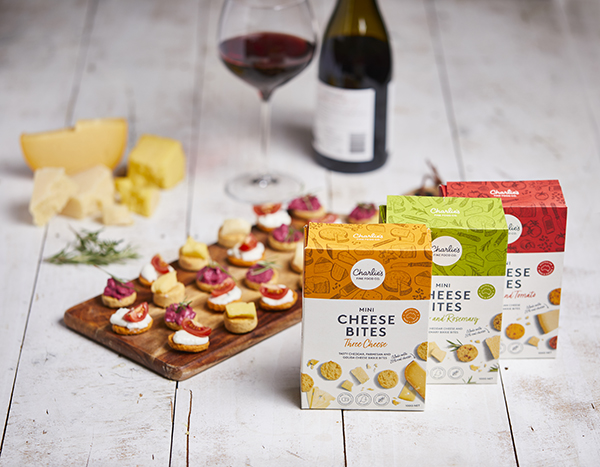 Pack your pantry with delicious biscuits from Charlie's Fine Food Co. We're secretly obsessed with the Mini Cheese Bites.
The Competition commences at 17:00 AEST/AEDT on 21 June 2021 and closes at 17:00 AEST/AEDT on 28 June 2021. Winner(s) will be drawn between 17:00 and 18:00 AEST/AEDT on 28 June 2021. Prize value is $100.00. 
Menopause: how much do you know?
See our last weeks results
Here's what people thought in other More to Say Surveys. Feel free to drop this chat at brunch…
Mare of Easttown is reminding us how awesome lady detectives are. Who is your fave?
Mariska Hargitay as Olivia Bensen in SVU
Gillian Anderson as Agent Scully
Toni Collette in Unbelievable
Kristen Bell as Veronica Mars
Frances McDormand as Marge Gunderson in Fargo
Stephanie Beatriz as Det. Diaz in Brooklyn 99
Merritt Weaver in Unbelievable
What's your comfort food vibe?
33% said:  Salty treats
30% said:  Sweet tooth vibes
22% said: Sunday roast
10% said: Childhood throwbacks
5% said: Clean eating
COVID-19 Vaccinations are a very hot topic. Where are you at with yours?
47% said: I'm still waiting for mine
33% said: I've had one jab
16% said: I'm choosing not to get the jab
4% said: I've had both doses
What was the best 90's show of all time? ALL TIME?!?
26% said: The X-Files
21% said: Seinfeld
21% said: Buffy the
Vampire Slayer
14% said: 90210
14% said: Friends
4% said: Melrose Place
The Federal Budget promised more focus on what women need. What's most important to you?
9% Women's Health
9% Secure housing
3% More accessible childcare
59% Ending violence against women
2% Superannuation reform
15% Aged care reform
3% Employment into middle-senior years
The weather is getting colder, and in the interests of keeping warm, how far do you drop your sartorial standards? 
23% said: I don't. I wear discreet, pretty thermals and stylish coats.
61% said: Slightly slippy. Uggs and Oodies inside the home only.
16% said: No shame. I will wear my onesies and slippers to the shops.
Chloe Zhao, the history-making Oscar-winner, walked the 2021 red carpet in trainers. Are high heels dead?
81% said: Yes! Modern gals are all about funky trainers or Docs.
19% said: No! I worship the heel and always will.
Alanis Morisette is coming to Australia in November. Have you ever belted out You Oughta Know with an ex in mind?
82% Yes, because who hasn't?
18% No, only because I've never been dumped
The weather is changing which is joy for some. But nothing divides opinion like summer vs winter. What's your pick?
51% said:Give me cooler winter days (sweaty ol' summer is the WORST)
49% said: Give me cooler winter days (sweaty ol' summer is the WORST)
20%: This gap is proof women are expected to stay at home whenever possible
50%: This stat is great for women because of the flexibility
30%: This gap will harm women via lack of visibility
True female music icons - you can choose only one!
43% said: Dolly Parton
42% said: Tina Turner
15% said: Cher
It's a delicious time of year, with hot cross buns and chocolate eggs at eye height every where we turn. Do you:
42%:Enjoy responsibly – a treat here and there won't hurt.
21%: Over indulge, and then regret. And then over indulge again.
36%: Throw caution to the wind and eat it all – why deny joy!
No-one voted to avoid hot cross bun season!
Did you march4justice on the 15th March?
74% said:Couldn't get there, but was there in spirit
10% said: Hells yes.
16% said: Don't see the point, nothing will change.
Sometimes life is hard and we need a little pick-me-up. What's your go-to?
26%: Music
24%: Friends
25%: Nature
5%: Meditation
11%: Exercise
9%: Cake
During highly stressful lockdowns over the past year, many people chose to reach for the bottle, for a wide range of reasons. Did you:
23% said:Really lean in and start making midnight G&T's when you couldn't sleep
31% said: Make a few more trips to Dan's than usual.
31% said: Go in the other direction and embrace the alcohol-free lifestyle.
15% said: Keep it steady.
We're talking about harassment. Have you ever felt uncomfortable in the workplace?
50% said: Yes, sadly I have.
50% said: No, I'm grateful never to have had that experience.
Message from Broad Radio: We know and understand that online polls have their limits, and wish to acknowledge that 85% of women have experienced sexual harassment at work, with 4 out of 5 perpetrators being men.
COVID-19 lockdowns have seen a big increase in women (of all ages) embracing the grey and changing their approach to dyeing their hair. What about you?
36% said: I've embraced the grey and I'm loving it.
22% said: Nope. I was first in line for a cut n colour.
31% said: I honestly don't care, as long as I'm well groomed.
11% said: I chose to go grey, but I'm not sure about it.
Older women are the fastest-growing group of homeless people. Do you feel secure in your housing?
28% said: Mostly
40% said: No, I worry about this a lot.
32% said: Yes.
Do you have a Will of your own?
44% said: Sure do! It's up to date too.
11% said: I don't know where to start, it's daunting.
45% said: No, but I've been meaning to.
Something for the mums: how do you feel about school being back?
6% said: Sad. I can't get enough time with my kids.
73% said: It's time. All good things must come to an end.
21% said: So ready. So exhausted.
What's your favourite sport to watch women play?
33% said: AFLW
8% said: Soccer (W League)
17% said: Super Netball
34% said: Tennis
8% said: None of the above. Sport ain't my jam
The Federal Government has drafted laws to protect Australians from cyber abuse. Tell us about your experience with online harassment.
4% said: Constant harassment that really takes its toll

29% said: Copped it once or twice, but not too bad

13% said: I get it about every week. Worst part of the internet
54% said: Thankfully I've never experienced it
We know work / life balance is important, but is it possible? How much 'me time' do you give yourself?
62% said: I make time every week. Benefits me, and those around me

5% said: I wish, but other people always take priority

33% said: Leave it up to chance, which means not often
0% said: Never, but that's cool. I love my work
A high percentage of Australian women own pleasure devices, but they're not for everyone. What's your preference?
22% said: I like the idea but don't know where to start
17% said: It's not my thing
48% said: I've had one or two in my day
13% said: My sex toy drawer is spectacularly packed with pleasure 
COVID-19 has had an unexpected impact in 2020. What was your experience?
61% said: It's been hard

8% said: It's transformed my life positively

31% said: I was able to slow down and reflect
Lift Someone Up! Talk Yourself Up!
We know there are extraordinary women that walk among us every day. Sometimes, they have an incredible story to share; about chance, resilience, love, or a life-changing decision. Sometimes, they have a cautionary tale, in the hopes of helping others. And sometimes, they're an unsung hero who doesn't get the recognition they deserve. 
Broad Radio will be sharing some of these stories and giving a voice to these extraordinary women and their extraordinary stories. 
Does this sound like you, or someone you know? 
Nominate yourself or a friend, with a short summary of the crazy beautiful reason. If we'd like to know more, we'll be in touch.
We love to run competitions for our poll participants. Here are our past winners.